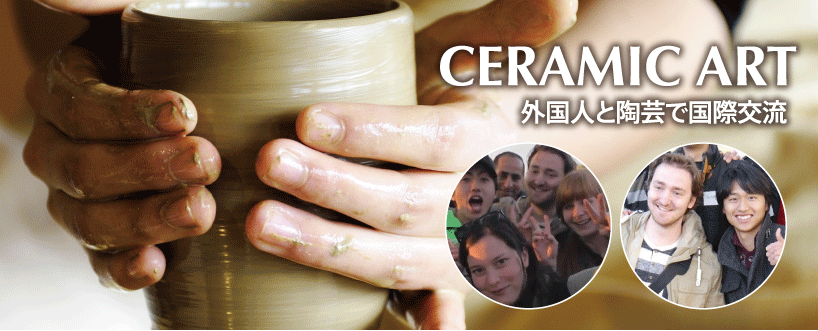 Title

Japanese Tougei – Ceramic Art Class

Dates&Time

May 16 (Fri) 19:00 a.m. to 21:00 a.m

Place

Daimyo Tougei Classroom, Fukuoka city

Organizer

Whats Fukuoka

Number

10

Fee

3,500yen
Frequently Asked Questions

Please adhere notes rule following, and prohibitions.
Prohibited matter
Acts such as inconvenience the next garden general others, the surrounding area as well as the participants.
Be or obscene remarks or Acts Dari unclothed.
Acts or forced to drink, or to compel serving sake to the participants.
Drunk driving after the event.
Action statements and it is determined that other, or GUSK is inadequate.
※ When you can not to observe the precautions listed above, you may ask for exit from the event, and I am allowed to refuse participation from the next time. In addition, please note that we do not refund the fee when we asked the exit.
Notes
For any trouble during the event, after the meeting, GUSK is not liable. I hope the management of your own.
To be able to manage on their own, thank you valuables. Please note valuables lost etc. in during the event, after the meeting, GUSK because you can not take responsibility.
Thank you for your cooperation in instruction GUSK, of the staff during the event.
So that it can be in the physical condition management on your own, thank you during the event of April 6.
Using your personal information obtained from the sign up form, GUSK sponsored future, there is a case where I am allowed to send the event information and the like run.
Please note that we have the assembly of the event for the purpose of exchange with foreigners, because it does not or adjust the ratio of Japanese and foreigners. However, we will contact you to place the case before the Japanese extremely large.
Disclaimer
If it is a sign up in our event, I judge that you understand all the rules of this event, prohibitions, notes, would have agreed.
There is a case to change rules, prohibitions, notes if necessary, modify, and I am allowed to delete or add in this event. I will consider it as the guidance of on this site is the case. In addition, after the change rules, prohibitions, notes, modifications, additions have been published on this site, receive when participating in this event to continue, customers you understand the changes, which had an agreement with respect to the contents I judge the thing.
[contact-form-7 404 "Not Found"]
名称

Japanese Traditinal Art

日時

May 16th 2014 19:00 a.m. to 21:00 a.m

会場

Daimyo Tougei Classroom, Fukuoka city

参加費

3,500yen

申込